Monsters of the Mountain: Baby Elementals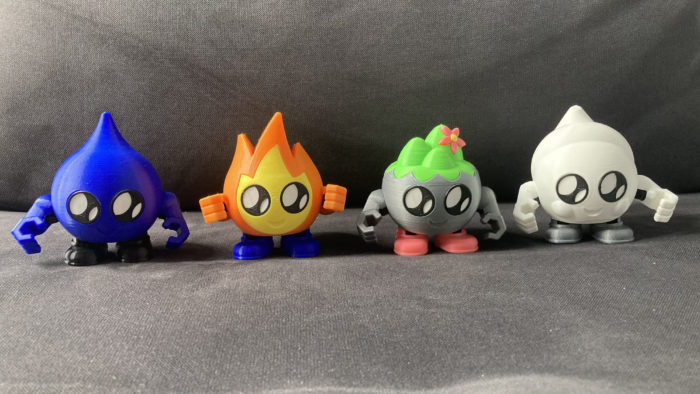 These little friends spawned from a silly sketch made while doodling with my kids almost a year ago. The joy and laughter that it sparked in them led me to make a whole daycare full of baby elemental monsters.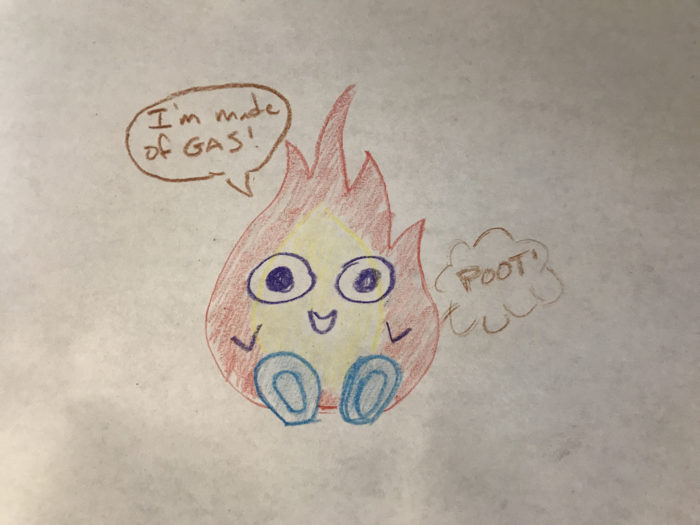 Design Notes
I had some time over the US Independence Day holiday weekend and with it, a burning desire to create like I hadn't for a while. It was a great feeling, and as I blew through these designs one after another, my kids loved peeking at the CAD, providing notes, and then having a new toy physically pop up in the house every day.
For the most part, the concepts poured from my brain into FreeCAD v0.19, and each one came together in the most adorable way. I will admit that I had some difficulty with one design, as my initial direction was definitely traversing rocky ground.
Fortunately, I was able to backtrack, and she turned out to be quite possibly my favorite of the bunch.
The same arm and leg designs were used across the board, and my daughter's "cutesy eye" concept of course had to be implemented. Hands should be able to hold any other accessory made in this style.
I love them.
While the Baby Elementals all came into being rather quickly, they didn't seem complete until it dawned on me that all kids need something to play with. So I also made these toys some toys of their own.
Helpful Tools
3D Printer capable of working with flexible materials and material changes
Super Glue
1. Print out Parts
Files can be found at the bottom of the page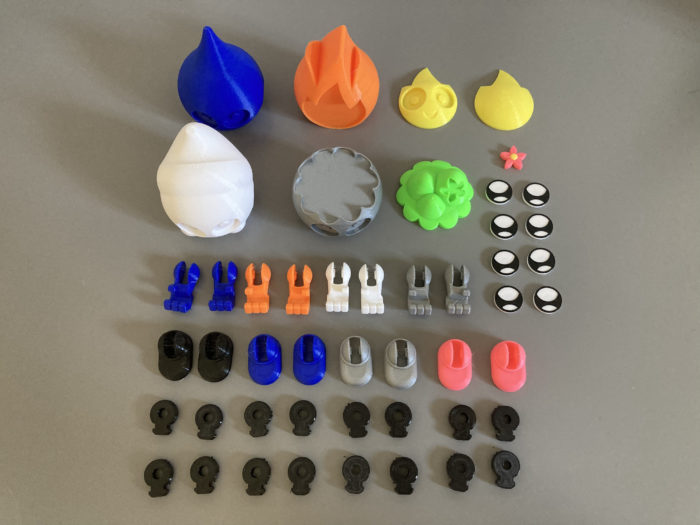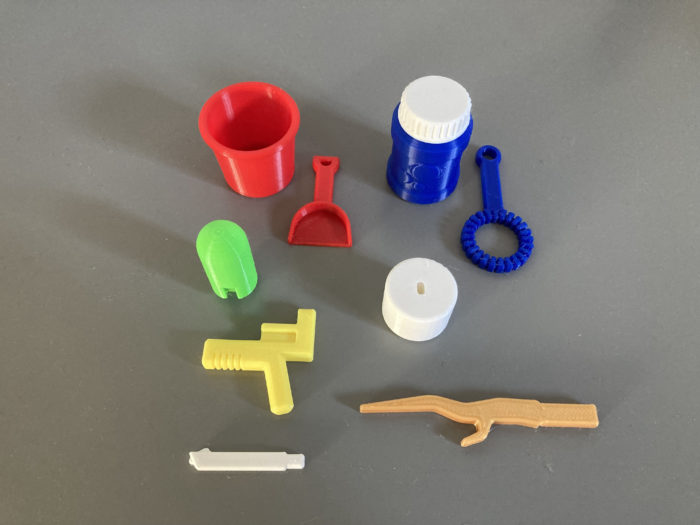 AFJ-FreeCAD (x16)
Material: Flex (98A)
Infill: 15-20%
Supports: No
Brim: No
15mm Cute Eyes (x8), EarthBaby-Flower, BubbleBottle
Material: PLA, with color change at specific layers as shown
Infill: 15-20%
Supports: No
Brim: No
Everything else
Material: PLA
Infill: 15-20%
Supports: No
Brim: No
2. Assemble Joints
Press-fit AFJ-FreeCAD into all of the joint components as shown.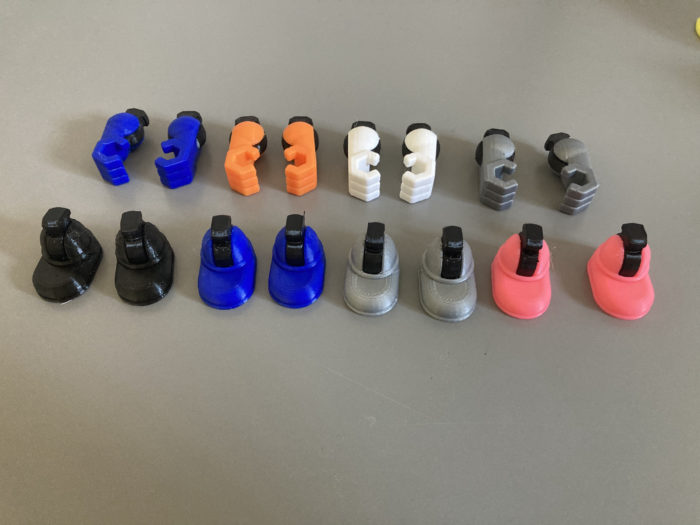 3. Assemble Limbs on Bodies
Press-fit the other end of the joints onto their respective bodies as shown.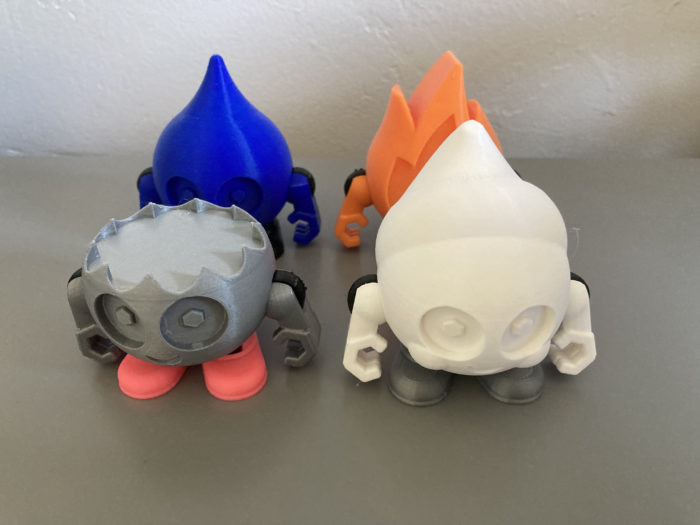 4. Assemble Fire Baby's Body
Press-fit FireBaby-Face and FireBaby-Booty onto the body as shown. Use a little glue as necessary.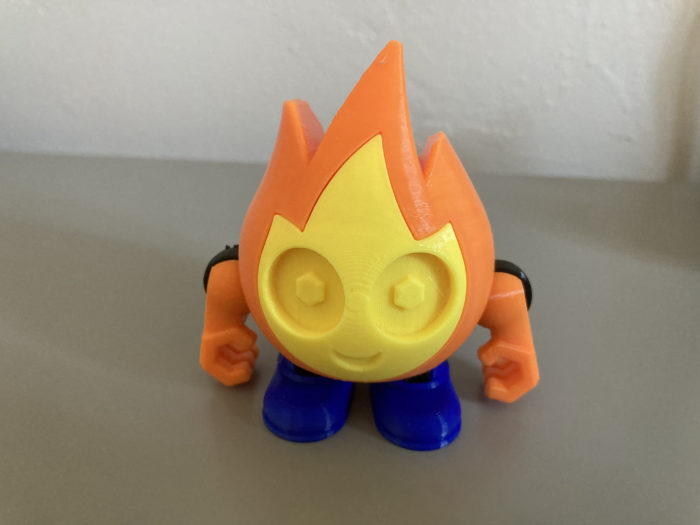 5. Assemble Earth Baby's Body
Press-fit EarthBaby-Cap onto body as shown. Press-fit EarthBaby-Flower onto cap as shown. Use a little glue as necessary in both situations.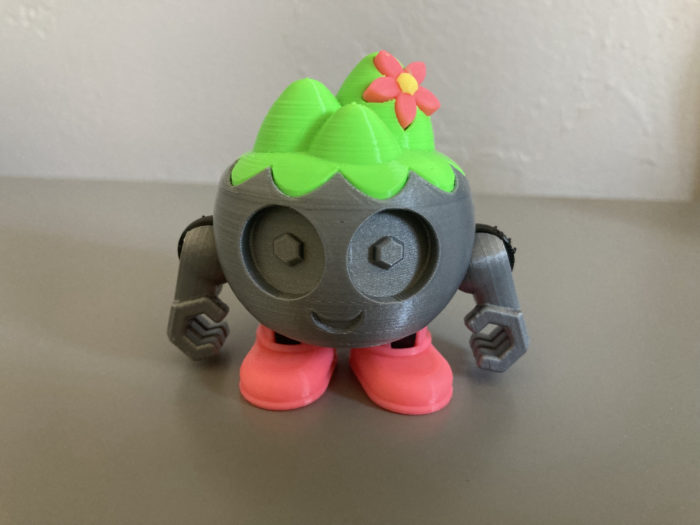 6. Assemble Cutesy Eyes
Do it. They are the cutest. Use a little glue as necessary.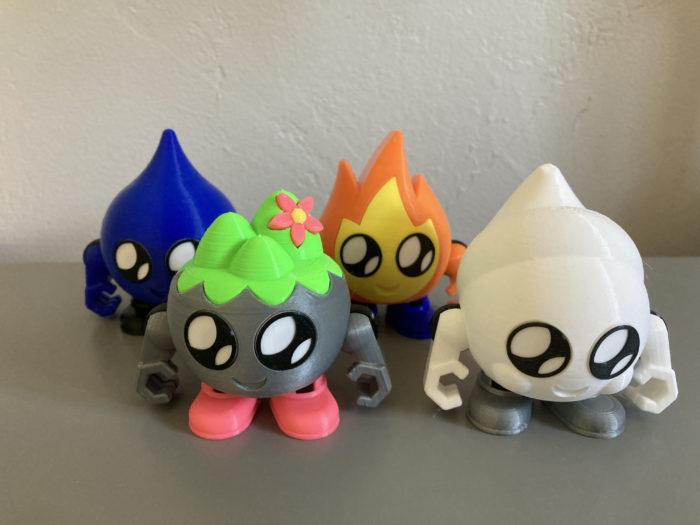 7. Water Baby's "Double Douser"
Designed after my favorite childhood water blaster (thank you Lonnie Johnson).
Press-fit DoubleDouser-Bottle onto DoubleDouser-Body as shown. Use a little glue as necessary.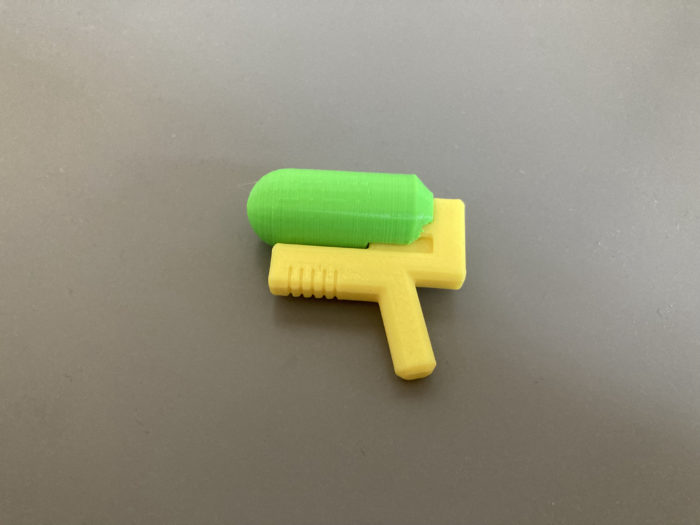 Press-fit DoubleDouser-Barrel into the body as shown. Use a little glue as necessary.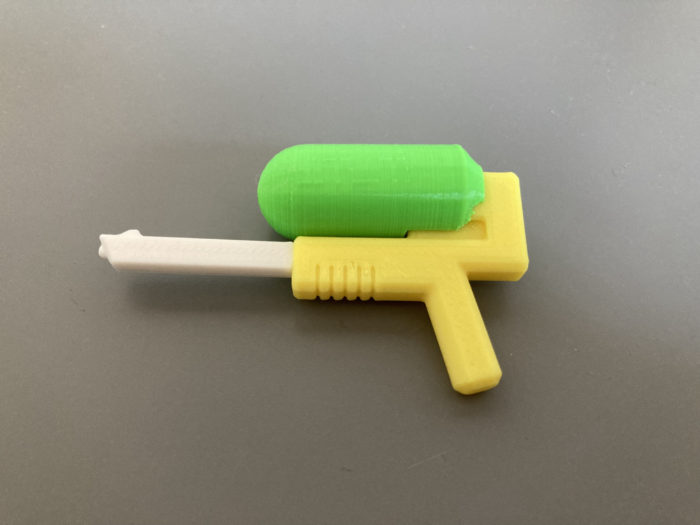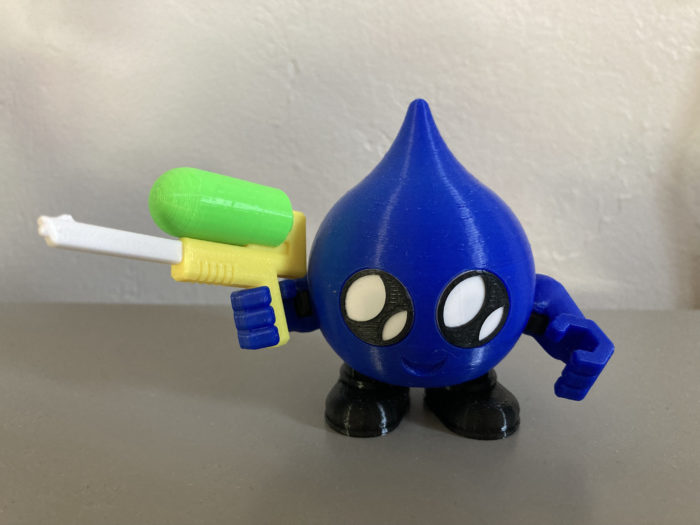 8. Fire Baby's Campfire Marshmallow
Because providing a baby with matches would have been irresponsible.
Press-fit CampfireMarshmallow onto Stick as shown. Use a little glue as necessary.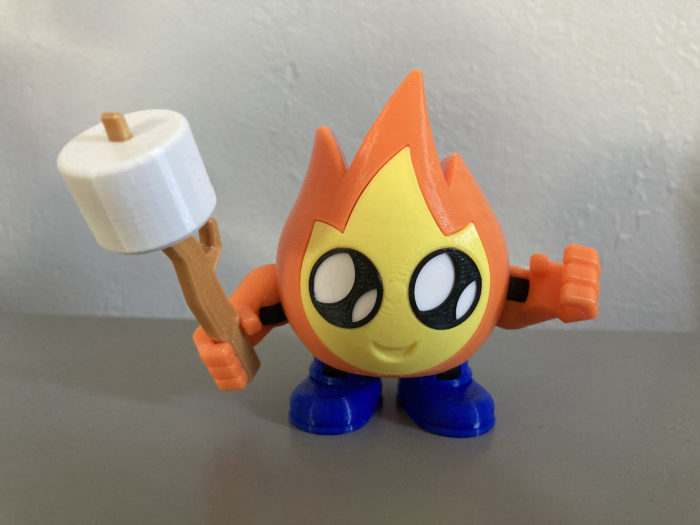 9. Earth Baby's Shovel and Bucket
Ready to make some sand castles!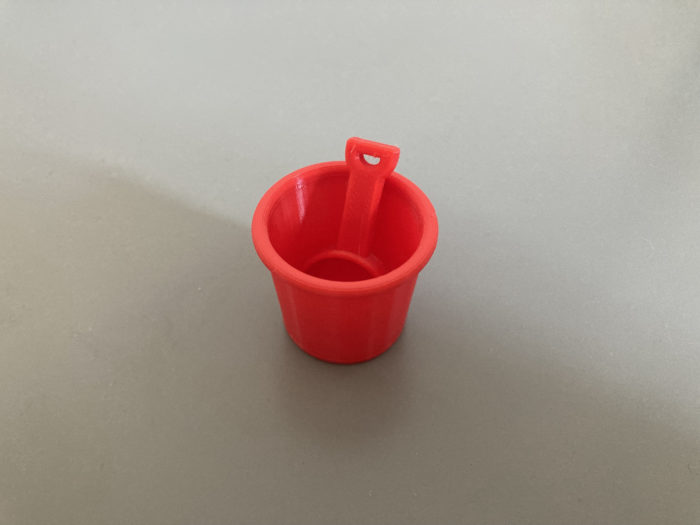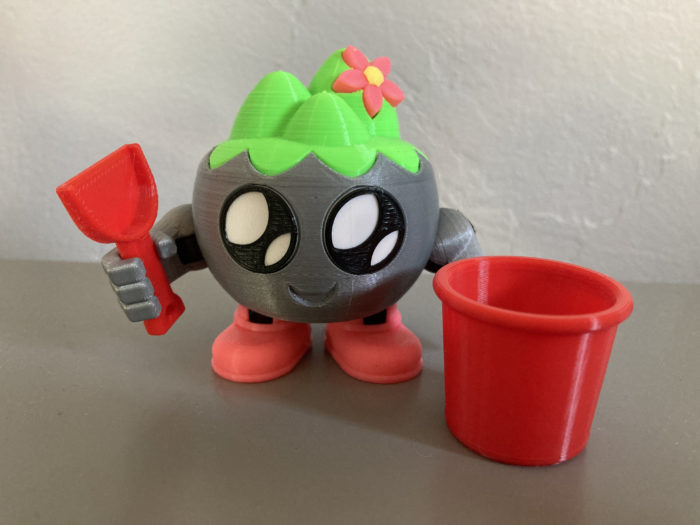 10. Air Baby's Bubbles
All of the bubbles!
Files
Click the Download buttons below for zip files containing all the components
Files are available under the Creative Commons BY-NC-SA license.
Like what you're seeing here? Leave me a comment down below, follow me on Twitter @DragonMtnDesign (I haven't been super active lately though), and/or say "hey" if you see me or my work out around on the internet.