In the spring of last year, I had the opportunity to play in my first remote Tabletop RPG (Star Wars), and while it didn't last long, I had a really good time! Next thing I know, I'm reading the D&D Player's Handbook and designing a mimic dice box as a gift for the friend who introduced me to it all.
…I've gone down a path I can't return from, haven't I?
Designed in FreeCAD v0.19, and created to hold the usual seven dice.
Helpful Tools
3D Printer
Needle nose pliers
1. Print out Parts
Direct download of files available at the bottom of the page.
All components
Material: PLA
Infill: 15 to 20%
Supports: No (if you wanted to use supports on MDB-ChestLid, go right ahead)
Brim: No
2. Tongue
Fit MBD-Tongue inside of MDB-ChestBase. Make sure to visibly line up the holes.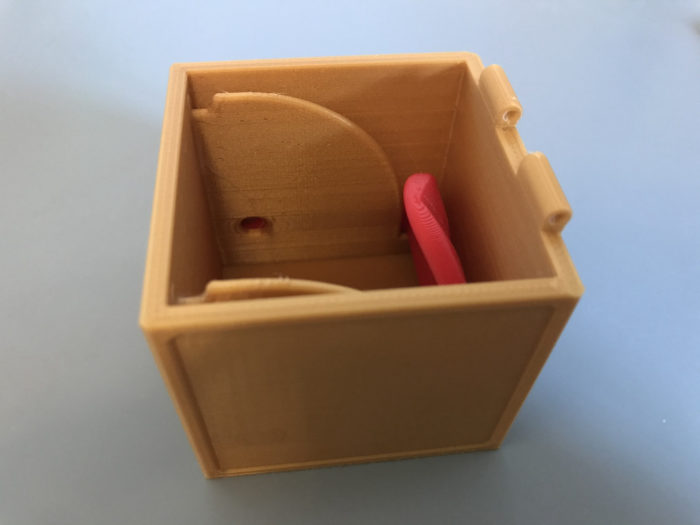 Using needle nose pliers, press-fit MDB-TonguePin into the holes to secure the tongue in place (x2).
3. Lid
Carefully snap-fit the hinges of MDB-ChestLid and MDB-ChestBase together so that they can rotate.
4. Teeth
Line up MDB-LeftTeeth and MDB-RightTeeth inside the lid as shown and snap-fit them in place.
Do the same with MDB-FrontTeeth.
5. Add Dice and Roll!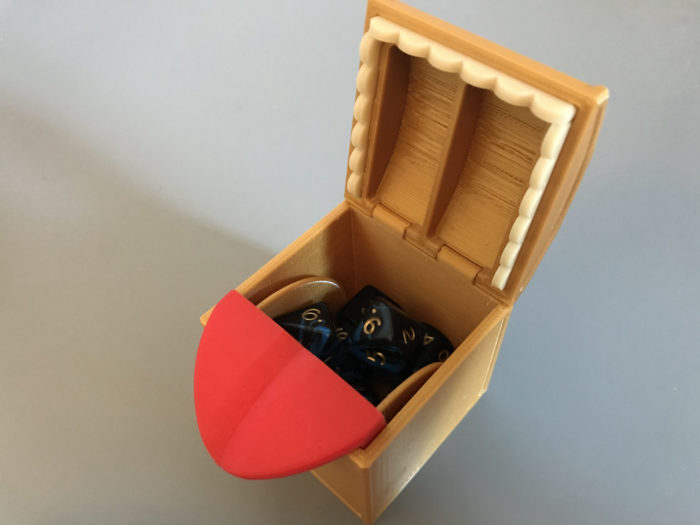 Files
Click the Download button below for a zip file with all the components.
Files are available under the Creative Commons BY-NC-SA license.
Like what you're seeing here? Leave me a comment below, follow me on twitter @DragonMtnDesign, say "hey" if you see me or my work around on Reddit (u/DragonMountainDesign), and wear a mask when out and about to be safe and show others that you care about their well being (gosh I cannot wait for this to be over).
…Happy New Year, everyone!