OBG Project – Coffee Table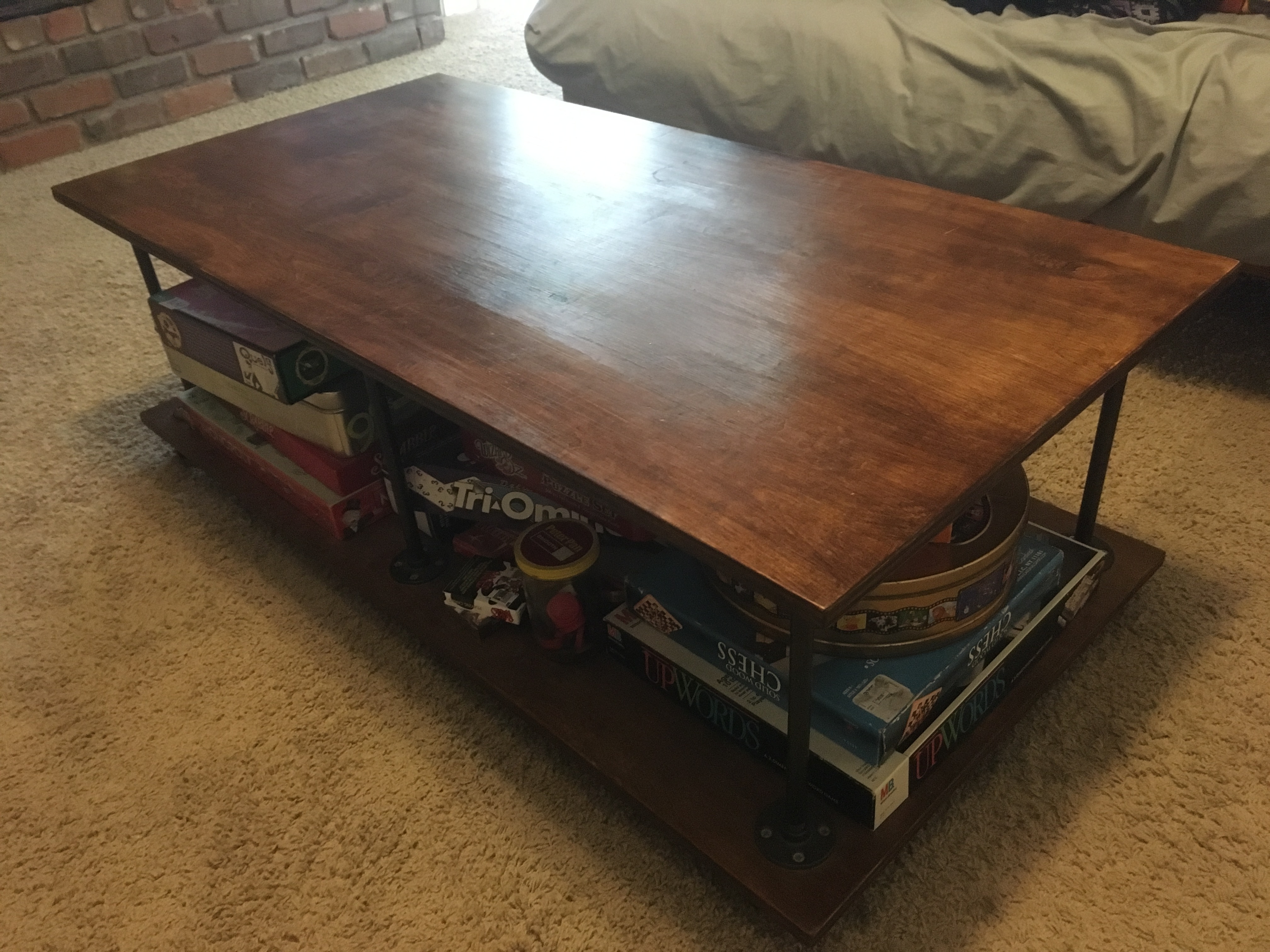 Yes friends.  We have come to the final Oldie But Goodie project: A coffee table match for the Shoe & Hat Rack.
As a companion piece, the design and construction are unsurprisingly similar.
Parts List:
3/8 Galvanized Floor Flange – Lowes (x12 this time.)
3/8 Galvanized Pipe, 12″ Long – Lowes (x6.  They're there.  I promise)
3/4″ Plywood, 4′ x 2′ – Lowes (x2.  You may find these pre-cut to this size.  If that's the case, awesome.  Wood type is up to you.)
Screws – Lowes (Again, I think I used #10 x 3/4″ Flat Head Phillips Wood screws to mount the pipes. Allow me to reiterate that wood screws are the worst)
PanHead Thread-Forming Screws – Lowes (I can't seem to find the exact ones used on the project.  These are for the casters, so reference those.  Shouldn't be any longer than 1/2″.)
2-1/2″ Rubber Casters – Lowes (x4.  You can grab ones that lock too if that's your preference.)
Spray Paint – Lowes (Needed it to match, so again used hammered black.)
Wood Stain – Lowes (Choose based on your preference.)
Helpful Tools:
Sander
Power Drill
If you're enjoying what you see here, follow me on Twitter @DragonMtnDesign!  For those who have been longing for a new 3D printing project, the Prusa i3 MK2 I ordered back in January should arrive early next month!  Cross your fingers.  We're almost there.