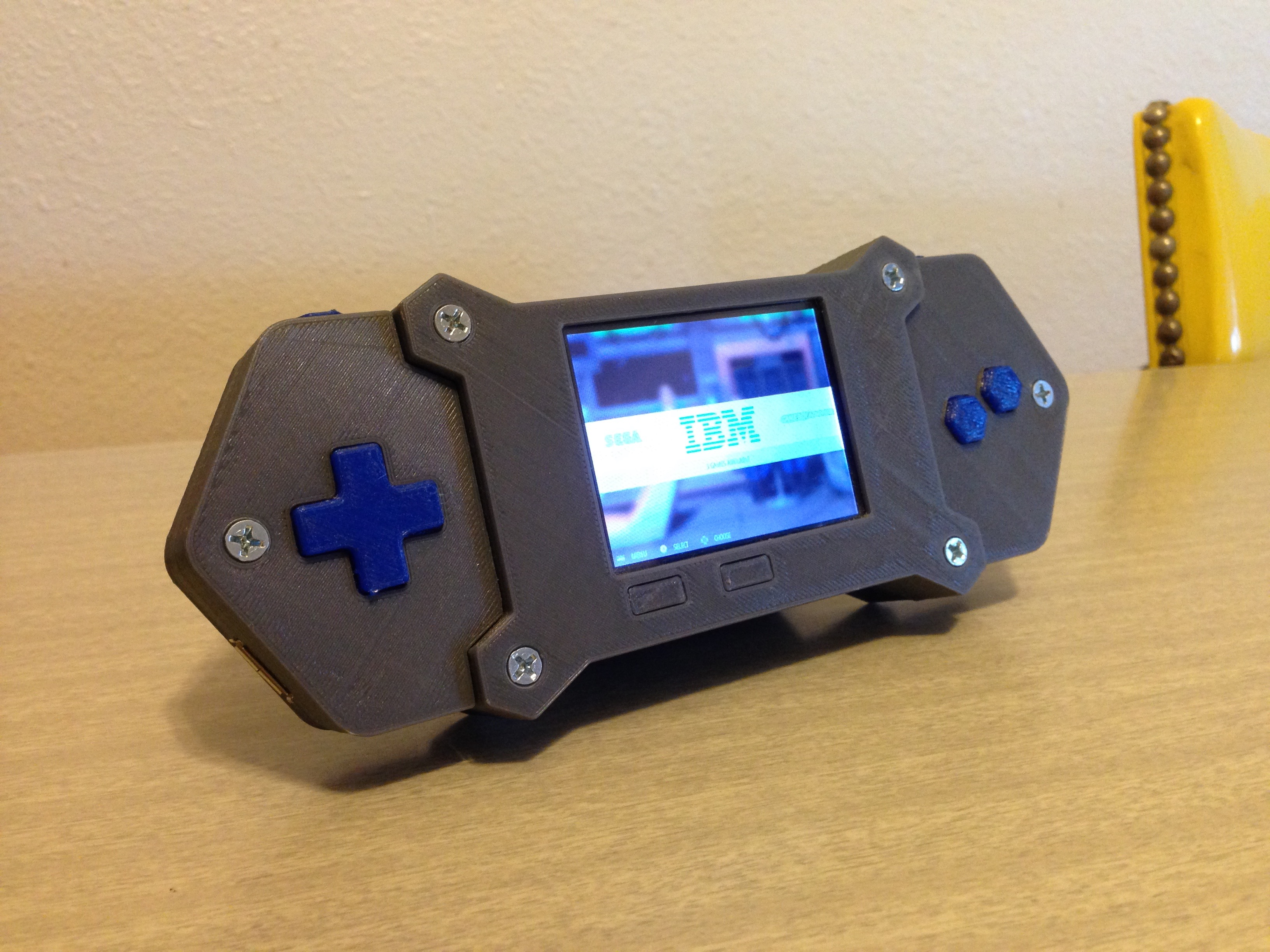 As mentioned at the end of my last post, Adafruit did indeed figure out how to get RetroPie to work using their TFT screens, which was awesome, because it allowed me to use the one I had previously purchased without issue, and finally build my own GameBoy:
Parts List:
2.8″ TFT Touch Screen – Adafruit 1601
PowerBoost 500 Charger – Adafruit 1944 (Haven't tried it, but item 2465 might be better for this. Also, hold onto that female USB connector. We'll use that too.)
3.7V 2500 mAh LiPO Battery – Adafruit 328 (Had a few issues with this for some reason and eventually switched to item 353, which changed up the aesthetics of the project a bit.)
Perma-Proto Half-Sized Breadboard – Adafruit 571 (If you purchase everything on the list at the same time, you might get one of these thrown in for free… at least I did.)
12mm Tactile Switch Buttons – Adafruit 1119 (You'll use four of them for this project.)
6mm Tactile Switch Buttons – Adafruit 367 (You'll use four of these also.)
6mm Slim Tactile Switch Buttons – Adafruit 1489 (Used two on the TFT.)
SPDT Slide Switch – Adafruit 805
Female-Female Jumper Wires – Adafruit 266
USB Type A Connector – Adafruit 1387
Heat Shrink Tubing – Adafruit 1649
Wifi dongle for Raspberry Pi. I used Adafruit 1012, but there are others
6-32 x 1″ Flat Head Philips Screws – McMaster 91771A153 (You'll use two of these, so unless you're going to use them for other things, you can probably grab similar parts at Home Depot, Lowes, etc.)
6-32 x 1 1/4″ Flat Head Philips Screws – McMaster 91771A155 (Four for this project. Can also be found elsewhere.)
If you're going for the larger battery from Adafruit, you'll need two 6-32 x 3/8″ Flat Head Philips Screws – McMaster 91771A146 (I couldn't find an equivalent at Home Depot… Used 1/2″ instead. Bleh.)
6-32 Hex Nuts – McMaster 91841A007 (if purchasing screws elsewhere, the nuts may come included in the packaging.)
2-56 x 1/4″ Pan Head Philips Screw – McMaster 91772A077
2-56 Press-Fit Insert for Plastics – McMaster 92395A111
No. 2 Lockwasher – McMaster 92146A520
Micro SD card
Helpful Tools:
Soldering Iron
3D Printer (or printing service.)
Dremel (Rotary or MultiMax)
Alright… Let's get down to business…
.
.
.
March 2020 UPDATE: Files are available here! Click the Download button below for a zip file.
Files are available under the Creative Commons BY-NC-SA license