Trogdor: Endless Burnination! (v1.0)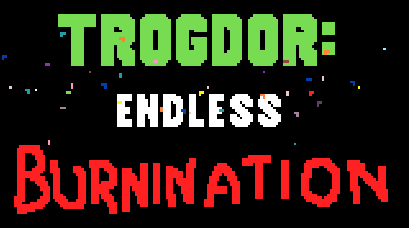 And the Trogdor comes in the NIIIIiiiiIIIIIGHT!
Improvements have been made to a point where I think this is finished (at least as far as I'm concerned).
Play Right Here, Right Now!
But… What is different from v0.1?
Better Fireball Graphics
Thanks to jwunderl on the MakeCode forum for giving the advice on improving the fireball to actually shoot from Trogdor's mouth and not his gut. That was a very nice touch to add to the new version.
ANIMATION!
This was by far my proudest moment, and it was not as complicated as I originally thought it would be. After playing around with it for a while, figured out the correct sequence of the animation blocks all within the "on start" block.
Four animation frames later, and this glorious dragon now walks around on his quest to burninate the countryside.
Audio Volume
Not as important when playing in browser, but when playing on the PYGAMER, the intro song was so so very faint, and the death tone was comically loud in juxtaposition. Added a volume block and cranked it to 11 (actually 255).
Gameplay Tweaks
Tweaked only slightly. One point for eating a Peasant was less of an incentive than just blasting that burnination button. Now it's as follows:
Peasants:
+2 points for chowing down (running into).
+0 points for burninating.
Knight:
+1 point for burninating.
-1 heart for getting attacked by one.
Thatched-roof Cottage:
+5 points for burninating.
-1 heart for crashing into one.
Arrow:
-1 heart for getting arrowed.
Cannot be burninated.
Go Burninate!
Was ecstatic to see that v0.1 of this game was Adafruit's MakeCode Arcade Game of the Week. Here's hoping you all enjoy the new version!
Like what you're seeing here? Leave me a comment here, follow @DragonMtnDesign on Twitter, or say hey if you see me about on Reddit.